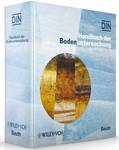 The rules for soil protection - clear, legally secure, inexpensive! Over 350 standards in the original text. The manual of the soil investigation, designed as a loose-leaf work, contains all technical rules listed in the BBodSchV and in other relevant ordinances as full texts and also the relevant legal texts. In addition, it contains relevant German and European standards for the following areas:
sampling
Chemical, physical, biological and mineralogical analysis of soils and soil material
Concept and classification norms
Rules for recycling waste in and on the soil.
The editorial team ensures that the work is continued continuously: an average of four additional deliveries per year keep the soil investigation manual at a consistently high level of topicality. The total value of the standards included is well over EUR 28,000. The start of the subscription is only 688.00 EUR. You can order your loose-leaf publication as a subscription at www.hbu-info.de. Further information Online, mobile and free of charge at www.hbu-info.de or in the flyer.