Regular special events
analytica and analytica Conference
From science to industry - the industry's marketplace Every two years in spring, the New Munich Trade Fair Center is the central meeting point for the international analytics, diagnostics and Biotechnology industries. The analytica, international trade fair and analytica conference, is Europe's most important platform for instrumental analysis, diagnostics, laboratory technology, measurement and testing technology, quality control and bio-technologies. more
Applied Symposia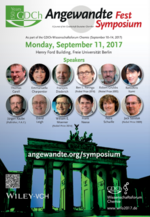 In the International Year of Chemistry 2011, the "Angewandte Chemie International Edition", the flagship of the GDCh journals and one of the most important chemistry publications worldwide, celebrated its 50th birthday with a large symposium. Since then, many other symposia have taken place, such as the 150th anniversary of the GDCh in 2017. more
Chemical Sciences and Society Symposia (CS3)
The Chemical Sciences and Society Symposia (CS3), which was launched in 2009 under the aegis of the GDCh, brings together leading chemists from China, Japan, Great Britain, Germany and the USA every year with the aim of developing solutions for the global To make problems of society. The symposia are organized jointly by the chemical societies of the five participating countries.
Sino-German Frontiers of Chemistry Symposia
The Chinese Chemical Society (CCS) and the GDCh launched the series of symposia in 2006 in order to strengthen scientific relationships between the two countries and to establish personal contacts, especially for young scientists at an early stage in their own Career . The symposia take place alternately in Germany and China and are supported by the Sino-German Center for Science Promotion of the DFG and the National Natural Science Foundation of China (NSFC) in Beijing.
Transatlantic Frontiers of Chemistry Symposia (TFOC)
The American Chemical Society (ACS), the GDCh and the Royal Society of Chemistry (RSC) have jointly organized the Transatlantic Frontiers of Chemistry Symposia (TFOC) since 2006. TFOC is the continuation of the German American Frontiers of Chemistry Symposia (GAFOC), which has been held regularly since 2000. The symposia take place alternately in the three countries, promote the interdisciplinary exchange between young scientists and deal with topics such as catalysis and synthesis, the molecular basis of materials and living systems, interface chemistry, basic knowledge of molecular mechanisms and fundamental questions of chemistry.
GDCh campus event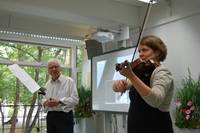 The GDCh Campus Event takes place at selected university locations and is aimed at anyone who simply wants to learn more about chemistry and the GDCh. The half-day event is very flexible in the choice of topics: It's about research, funding, publishing - scientific and popular science lectures, workshops and special formats on industry topics alternate.
One-time special events
Experiment Future - Value Thinking in Chemistry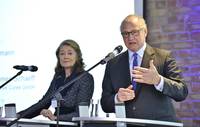 Orientation for the future of chemistry as a scientific discipline and branch of industry requires more than the pure increase in knowledge and profit. The GDCh meets this demand with keynote speeches and innovative discussion formats. Voices from business, politics and science, but also the opinion of the next generation are part of it. more
Innovation marathon chemical turnaround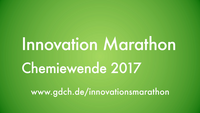 In keynotes, a panel discussion and a 24-hour teamwork phase, we searched day and night together with students, (post) doctoral candidates and entrepreneurs for answers to the important question: "How do we achieve a new start-up in chemistry?" More