After two years without personal meetings of the Division , we are pleased to invite you to our annual conference "Environment 2022" from September 5th to 7th, 2022. The Conference will take place at the Emden/Leer University of Applied Sciences in Emden under the motto "butene and inland - material cycles in the air / in the sea / on land". The scientific program is designed jointly by the GDCh Division of Environmental Chemistry & Ecotoxicology and the SETAC GLB. "Buten und Binnen" means something like "outside and inside". In this sense, the Conference focuses on material cycles. With the thematic priorities set by the scientific committee, we invite you to shape "Environment 2022" with us. As with all of our Conferences , all contributions that improve our understanding of regional and global material cycles and the associated effects are of course welcome.
News & information about the environment 2022:
General Assembly meeting of the GDCh Division of Environmental Chemistry & Ecotoxicology on September 7, 2022 from 10:00 a.m. to 11:00 a.m
You can still submit posters. To do this, please send an email to Lukas Kruckenfellner. (Contributions received after August 16 can only be considered as an insert in the conference proceedings).
f you have not yet registered for the conference but would like to do so, you can register here.
As with the previous annual conferences, we remain true to ourselves and look forward to contributions from young scientists in German or English. Especially for the young there is on 5.9. in the run-up to the Conference , the "Young environmental chemistry Forum" (JUF), which is also organized in Emden by the "Young environmental chemistry & Ecotoxicology" group. This offers the opportunity to present publicly for the first time, but in a smaller group, to test the lecture for "Environment 2022" one last time or to expand one's own network. Further information will soon be available here: https://www.gdch.de/netzwerk-struktur/fachstruktur/umweltchemie-oekotoxikologie/veranstaltungen/juf.html.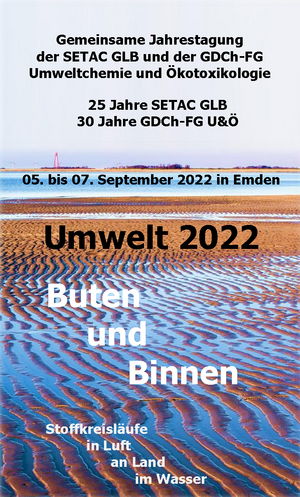 Download flyer of the annual conference