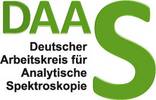 The German working group Group for Analytical Spectroscopy of the GDCh Division of Analytical Chemistry networks experts and users in the field of analytical spectroscopy. After a member's vote, board resolution and confirmation by the Division of Analytical Chemistry , the DAAS was created in April 2014 through the merger of the AMSEl working groups. (working group group for micro and trace analysis of elements and element species species) and DASp (German working group group for applied spectroscopy).

The DAAS
promotes interdisciplinary collaboration among spectroscopists in all scientific disciplines
observes and promotes trends and techniques
supports method development and application
is the point of contact for international organizations
is committed to and at international conferences and Conferences
works in an advisory capacity in the area of quality assurance, terms and formulations

The DAAS

Would you like to DAAS member?
Information on registration & registration form

Short link to this page: www.gdch.de/daas
Board election for the 2023-2026 term of office
In a letter dated October 7th, 2022, we announced the candidates proposed by the current Board of the German Working Group for Analytical Spectroscopy (DAAS) for the upcoming board elections. No further proposals were submitted from the ranks of the members. Accordingly, the election of the Board of Directors will be carried out with the following persons, all of whom have approved their candidacy:
University/research institution
| | | |
| --- | --- | --- |
| Surname | affiliation | electoral status |
| | University of Siegen | re-election |
| Prof. Dr. Jorg Feldman | Graz University of Technology, Austria | re-election |
| Prof. Dr. Uwe Karst | Westfälische Wilhelms-Universität Münster | re-election |
| dr Bjorn Meerman | Federal Institute for Materials Research and Testing, Berlin | re-election |
| | Helmholtz Center Hereon, Geesthacht | re-election |
| | Physical-Technical Federal Institute Braunschweig | re-election |
Industry
| | | |
| --- | --- | --- |
| | Currenta GmbH & Co. OHG, Leverkusen | re-election |
| dr Stephanie Fingerhut | Merck KGaA, Darmstadt | re-election |
| | BASF SE, Ludwigshafen | re-election |
| | Shimadzu Europe GmbH, Duisburg | re-election |
| | Analytik Jena GmbH, Jena | re-election |
| | Evonik Operations GmbH, Hanau | re-election |
According to the Working Guidelines of the working group, the Board consists of a maximum of six members (1x chair, 1x deputy chair, max. 4x assessors), who are each elected for a period of four years. Universities and industry should be equally involved in the composition of the board. One re-election is possible. This means that there are twelve people to choose from for six positions on the Management Board that need to be filled. The functions of chair and deputy chair are determined by the elected Board after the election.
All specialist group members who have provided an email address will receive a link for online voting on Monday, October 31, 2022. All other members will receive the voting documents by mail.
The result of the election will be announced in the Nachrichten aus der Chemie and on the Division 's website.
The Board consists of a minimum of four and a maximum of six people, with industry and universities equally represented.
Acknowledgment of outstanding spectroscopic achievements, especially of younger scientists. The prize, endowed with 3000 euros by Analytik Jena AG, is awarded every two years as part of the analytica conference in Munich.

Award for outstanding scientific work in the field of chemical micro- and trace analysis. The award serves to recognize and promote younger scientists. The prize is donated by Merck KGaA and is presented every two years at ANAKON.